Uncategorized
Don't Pawn Your Store for Custom Apparel
It shouldn't Cost your Shirt to make Custom Apparel…
Recently the staff here took a rare break for lunch, and up on the TV came a particular episode of the History Channel show 'Pawn Stars': 'No Shoes No Shirt No Service'. normally we're enthralled watching the Harrison's make deals and run an awesome business, although we do believe that their polo / custom apparel shirts could use a touch of Cherie4art embroidery..
One thing that certainly caught our attention on this particular episode was the difficulty Chumlee, the clown prince of pawn, faced trying to design and purchase a custom work shirt for the shop. The price quoted for custom shirts was ridiculous! We love Chumlee's desire to design a fashion forward promotional uniform, recognizing the need to brand the shop while representing a style all his own. However, $129.00 quoted from a chain shirt provider for a single one off shirt was outrageous to say the least! Cherie4art ran the numbers on meeting Chumlee's demand for the same design. Our custom apparel artists estimated the same design at less than 1/3 of their quote. If Chumlee dressed the whole shop staff, the price would have even been significantly lower for each shirt!
If Chumlee had found Cherie4Art.com, he could design custom shirts in style and under budget!
Chumlee deserves colorful decorated apparel at an affordable price, produced fast, and accurately. We invite you too send us your design at Info@cherie4art.com and let us quote what we can do for your business to give your brand and edge. Our suggestion would have been to sublimate print the shirt or even to have considered CAD cut Vinyl. Sublimation allows full color at a discount price. Vinyl offers crisp logos and designs that add practically no weight to a shirt, and are very durable.
Spoilers Below:
We won't spoil it too badly for you, a disheartened customer left that shop. Ultimately, Chumlee made his own custom shirts at home. He learned that making your own custom shirts is often a way to make rags from your riches. Let Cherie4art.com Help you with all your custom apparel designs!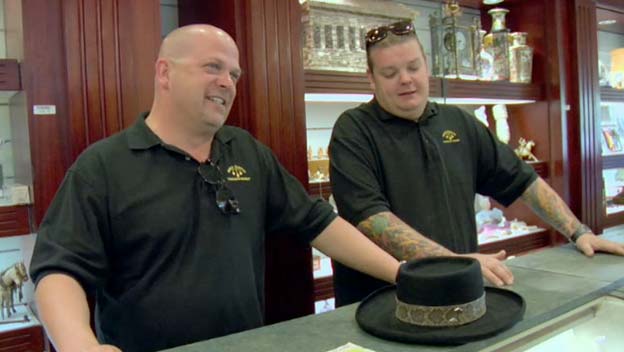 Cherie4art.com is in no way affiliated with History Chanel, the show 'Pawn Stars', or the famous Gold & Silver pawn shop of Las Vegas or its staff: We are just great fans of the show, and are always looking to help business stand out through great business uniforms and apparel. You can get your shirt estimate from us at info@cherie4art.com. You can watch this awesome Pawn Stars episode and many more at History.com