Uncategorized
Heat Transfer Vinyl vs Screen Printing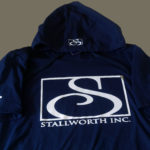 Once you've decided that you need a custom T-shirt, and have a fair idea of what statement you want to make, contact Cherie4art and we're going to make a few suggestions. The Primary thing we will suggest is a method of apparel decoration: Screen Print or Heat Transfer Vinyl: HTV.
Softness and Feel:
While both Screen Print and Vinyl printing add some heft to a shirt and a bit of stiffness, they are very similar in coverage feel. If you want a softer feel of the cloth, we suggest using thinner liner in your designs, and lots of negative space where the main shirt color can shine through; our premium vinyl is light weight and comfortable.
There are pros and cons to both:
The primary advantage of Heat transfer over screen print is absolute cost, especially in small quantity runs. While both can produce crisp text and long lasting wear, only Heat Transfer can be applied without the expense of costly equipment, environmental impact chemicals and scree setup.  Heat transfer is a fantastic alternative to screen print in many design applications, producing similar results on many logos with out added expense.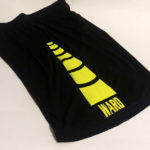 While screen printing is great when you need multiple hundred pieces to be produced with a range of colors in a single print; it is important to know how screen printing is applied: it is a dot matrix system of color blending. This means that a for each color needed, a prime color screen is need, which can add up as the cost of each screen is typically around forty dollars. this cost maybe negligible in a run of a few thousand shirts, and we will certainly be happy to accommodate, but in a run of a few dozen or less its cost prohibitive. Vinyl is charged by the size of the print, and the number of layers needed; typical left chest logos could save 75% of the cost as compared to Screen printing after setup fees.
More color with less setup:
Lets assume you need a purple logo: HTV offers a single color solution. If you need 2 or 3 colors, transfer vinyl can be layered to produce multiple color effects. While each layer is a separate press and cut out, HTV is far more affordable in terms of small run (less than 100 shirts) as there is no upfront setup cost. The colors are vibrant and even more intense than other printing methods.
Metallic sparkle and shine:
CAD cut heat transfer offers the ability to add real sparkle and shine to a custom tee shirt with dazzling effects. by using Mylar foils and holographic films, shirts can have light dance off of them in ways that sparkle and catch the eye so that your always noticed: an effect screen printing cannot replicate. these films are as long lasting and durable as any other apparel decoration or customization method with proper care.
Best Care Practices for Vinyl T-Shirts:
We want you to enjoy your custom shirts for years to come, and we have some tips. First, always turn your shirt inside out before washing. Ensure that you launder HTV vinyl or bling shirts with cold to warm water only, avoiding bleach whenever possible. In addition Fabric softener should NEVER be used with printed apparel, as the softener will loosen the fibers that the vinyl, bling, or screen printing is attached to; in time this loosens the imprint and causes the printing to peel or fade away. Lastly, tumble dry on low or cold, or line dry: while you can use some heat; its not uncommon for vinyl shirts to wrinkle permanently in the heat, especially in large print coverage areas.