Custom Shirt Printing Gets Seen
Heat Transfer Vinyl Shirt Printing:
Logo and Art Design Without the Bulk:
Details, Design, Durability and Stretch
Soft and Light Weight: 
High Strength and Tight Bond:
Tons of Color and Effects:
Great Representation:
Lasting Graphics:
The science of CAD HTV (Heat Transfer Vinyl) shirt printing has truly improved in recent years, allowing for stretchable vinyl that moves with athletes and won't weight the garment down with overly stiff graphic designs. Whether your shirt is polyester, the hat is cotton, or the bag is burlap: vinyl apparel presents a solution which will endure. Due to new adhesives and better tech, both the substrate and the garment will last long and wear strong.
HTV is not traditional shirt printing:
Because heat transfer allows a ton of variety and effects, such as bling, metallic flake, Glow in the dark, metal foils and a myriad of holographic style illusions, solid, matte, and sheen color combinations: the design choices are nearly endless. Light weight and stretchable options move with players and feel soft and pliable even after continued washing
and wear. Metallic options and reflective options bring attention, and even more safety to wearers: making sure they are seen. Whether its shirts for your staff, booster club hats, team uniforms, or cheer mom outfits: vinyl transfers have you covered. Nearly all designs can be created in full shirt glorious detail, without the stiffness of embroidery, or the cost of screen print setup. Cherie4art can help you create a design if you don't have one already, something that will get the attention your team deserves. HTV (Heat Transfer) are also great for low run counts, and especially for full coverage apparel designs without the cost of multiple screen setup as are required for color screen printing.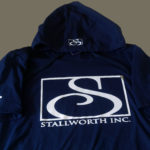 Need Custom Printed Apparel?
Contact Cherie4Art: